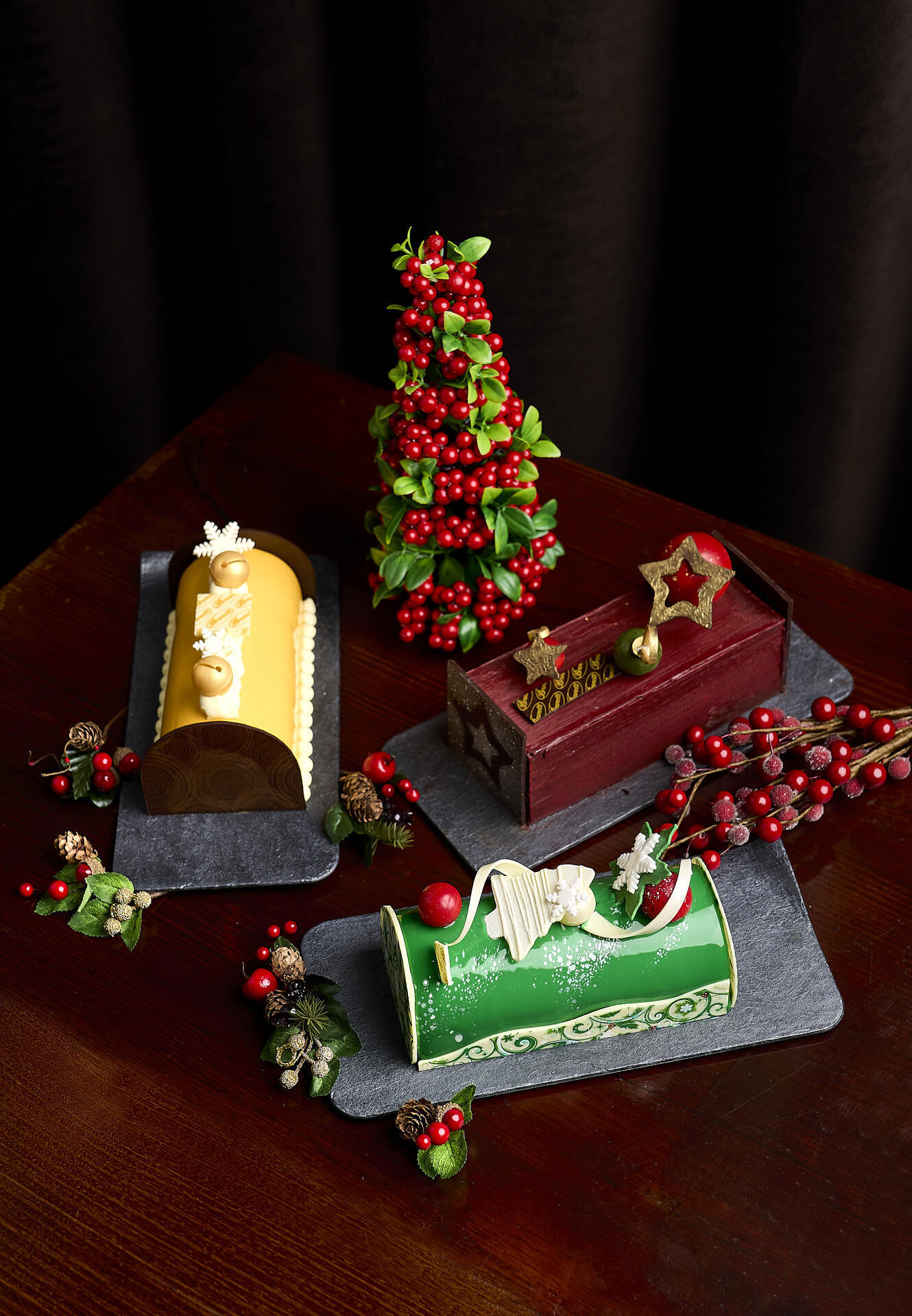 A Slice of Heaven: Celebrate with Our Irresistible 8-Portion Celebration Cakes at Brunetti Classico
At Brunetti Classico in Carlton, Melbourne, we believe that every special occasion deserves a truly indulgent celebration. Our 8-portion celebration cakes are designed to make your moments memorable and extraordinary. Let's take a closer look at these delectable delights that will be the highlight of any gathering.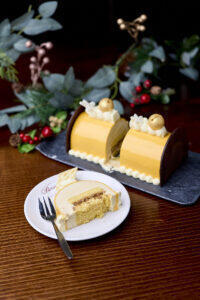 Spiced Biscoff Mousse, Citrus Cremeaux, and More
Our Biscoff Yule Log is a masterpiece of flavour and texture. It's an 8-portion delight that combines the warmth of spiced Biscoff with a burst of citrusy freshness. Here's what you can expect:
Spiced Biscoff Mousse: The Biscoff mousse at the heart of this log is a comforting blend of spices that dance on your taste buds. It's a perfect balance of sweetness and warmth.
Yellow Citrus Cremeaux: To counterbalance the spiced mousse, we've added a layer of citrus cremeaux. It's bright and zesty, bringing a burst of freshness to each bite.
Biscoff Crunch Layer: Adding a satisfying crunch, we've included a layer of Biscoff crunch that complements the mousse and cremeaux beautifully.
Orange Sponge Cake: The orange sponge cake layer adds a moist and citrusy note to the cake. It's a delightful contrast to the creamy elements.
Light Orange Glaze and White Chocolate Snowflakes: To finish, the cake is decorated with a light orange glaze that glistens like fresh snow, and delicate white chocolate snowflakes that add an elegant touch.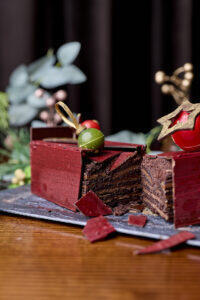 Flourless Chocolate Sponge, Dark Chocolate Cremeaux, and More
For those who appreciate the timeless allure of chocolate, our Chocolate Yule Log is a must-try. This 8-portion cake embodies the rich and deep flavors of cocoa:
Flourless Chocolate Sponge: The cake is built on a base of flourless chocolate sponge, creating an intensely chocolatey foundation.
Dark Chocolate Cremeaux: A layer of dark chocolate cremeaux adds an exquisite creaminess that complements the sponge perfectly.
Encased in a Hard Chocolate Shell: This log is encased in a hard chocolate shell, giving it a satisfying crunch before the rich creaminess within.
Chocolate Stars and Baubles: To complete the festive look, the cake is adorned with chocolate stars and baubles that capture the spirit of the season.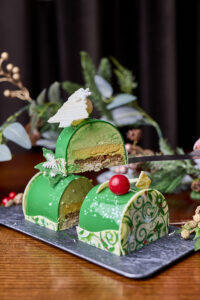 Green Tea Mousse, Mango and Passionfruit Jelly, and More
For a touch of elegance and exotic flair, our Matcha Yule Log is a fusion of flavours that will transport your taste buds to distant lands:
Green Tea Mousse: The green tea mousse is delicate, with the earthy notes of matcha taking center stage.
Mango and Passionfruit Jelly Layer: To introduce a tropical twist, we've included a layer of mango and passionfruit jelly, adding a delightful contrast in flavors.
Coconut and Hazelnut Crunch: A layer of coconut and hazelnut crunch provides a satisfying texture and a hint of nuttiness.
Almond & Coconut Sponge: The log is nestled on a bed of almond and coconut sponge, which brings depth and a subtle sweetness.
Green Glaze and White Chocolate Decorations: The cake is finished with a green glaze that evokes the beauty of matcha and adorned with elegant white chocolate decorations.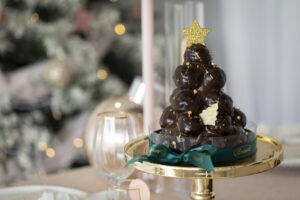 Bigne, Dark Chocolate, and a Chocolate Star
The Profiterole Tree is a testament to the allure of profiteroles. This tower is a sight to behold and a treat for the senses:
Bigne Covered in Dark Chocolate: The tower is constructed from bigne, each filled with luscious cream, and covered in dark chocolate, creating a harmonious blend of textures.
Finished with a Chocolate Star: At the top of the tree, you'll find a chocolate star that adds a touch of elegance to this impressive dessert.
Why Choose Brunetti Classico's Celebration Cakes?
Our celebration cakes at Brunetti Classico are more than just desserts; they are expressions of artistry and craftsmanship. Each cake is carefully designed to offer a symphony of flavors, textures, and aesthetics. Whether you're celebrating a special occasion or simply indulging in a moment of delight, these cakes are crafted to make your experience exceptional.
This holiday season, or for any celebration, let Brunetti Classico's 8-portion celebration cakes be the centerpiece of your joy. Whether you're savoring the warmth of Biscoff, the richness of chocolate, or the elegance of matcha, these cakes will leave you with unforgettable memories and a desire for more.