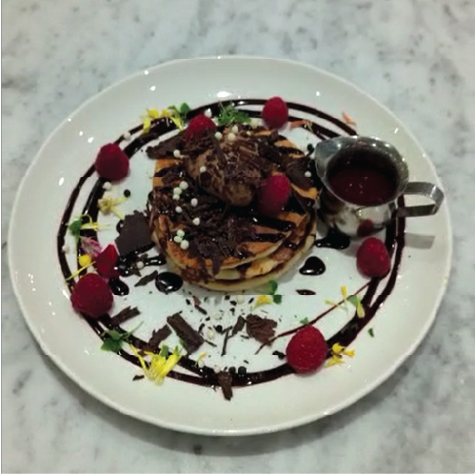 Pancake Day Specials at Brunetti Classico!
Celebrate Pancake day 2023 at Brunetti Classico with our limited time pancake day specials!
Pancake Day is observed in most Catholic countries worldwide to mark the beginning of the lenten fast.
Pancake Day – or Shrove Tuesday is the day before Ash Wednesday and is celebrated by many Catholics worldwide by burning the palms from the previous years Palm Sunday.
Along with the burning of palms in preparation for Ash Wednesday, there are many different traditions observed worldwide with the most common being eating pancakes. Shrove Tuesday is celebrated by Catholics as a final feast day before their 40 day fast in the lead up to easter. Many Catholics eat pancakes and other sweets on Pancake Day as giving up eating sweets is a common tradition during lent and many Parishes and Catholic schools will celebrate Pancake Day with a pancake breakfast.
Don't have time to get the frying pan out on Tuesday morning?
We will be celebrating Pancake Day the Brunetti Classico way at our Lygon Street Cafe!
Pancakes are a favourite menu item in Melbourne's breakfast and brunch scene, so we have designed three delicious flavours that will be available in Carlton from our Kitchen for 4 days from Saturday the 18th of February until Pancake Day on Tuesday the 21st of February.
Our three limited time meals will have you wishing you could have pancakes for every meal! Here's what's on the menu:
Chocolate & Raspberry Coulis
Triple Stack Pancake
Indulge with our decadent chocolate and raspberry pancakes.
This stack of 3 pancakes is served with chocolate mousse, chocolate drizzle and raspberry coulis.
Enjoy this meal as a breakfast treat or dessert!
Who said pancakes were only for desert?
This savoury pancake is served with fried chicken tenders and salad and topped with Siracha Maple Syrup to add a sweet and spicy tang to your dish.
Enjoy this meal for breakfast, lunch or dinner!
Lemon & Ricotta
Triple Stack Pancake
Our zestful lemon & ricotta pancakes are a delectable treat for a warm summers day!
This stack of 3 pancakes is served with a dollop of lemon ricotta and lemon syrup, topped with biscotti crumbs this light and refreshing treat.
Enjoy this meal for breakfast or dessert!
Our Alla Carte kitchen in our Carlton Cafe will be serving up our Pancake Day specials from 7am on Saturday the 18th – be sure to get in early on Saturday morning to be the first to try our pancakes!
If you're looking for a delicious way to celebrate Shrove Tuesday, head on over to Brunetti Classico in Carlton for one of our delicious special edition pancakes!
Be sure to let us know how we did on Facebook and Instagram by tagging us @brunetticlassico and using #brunetticlassico
Other posts you might like: