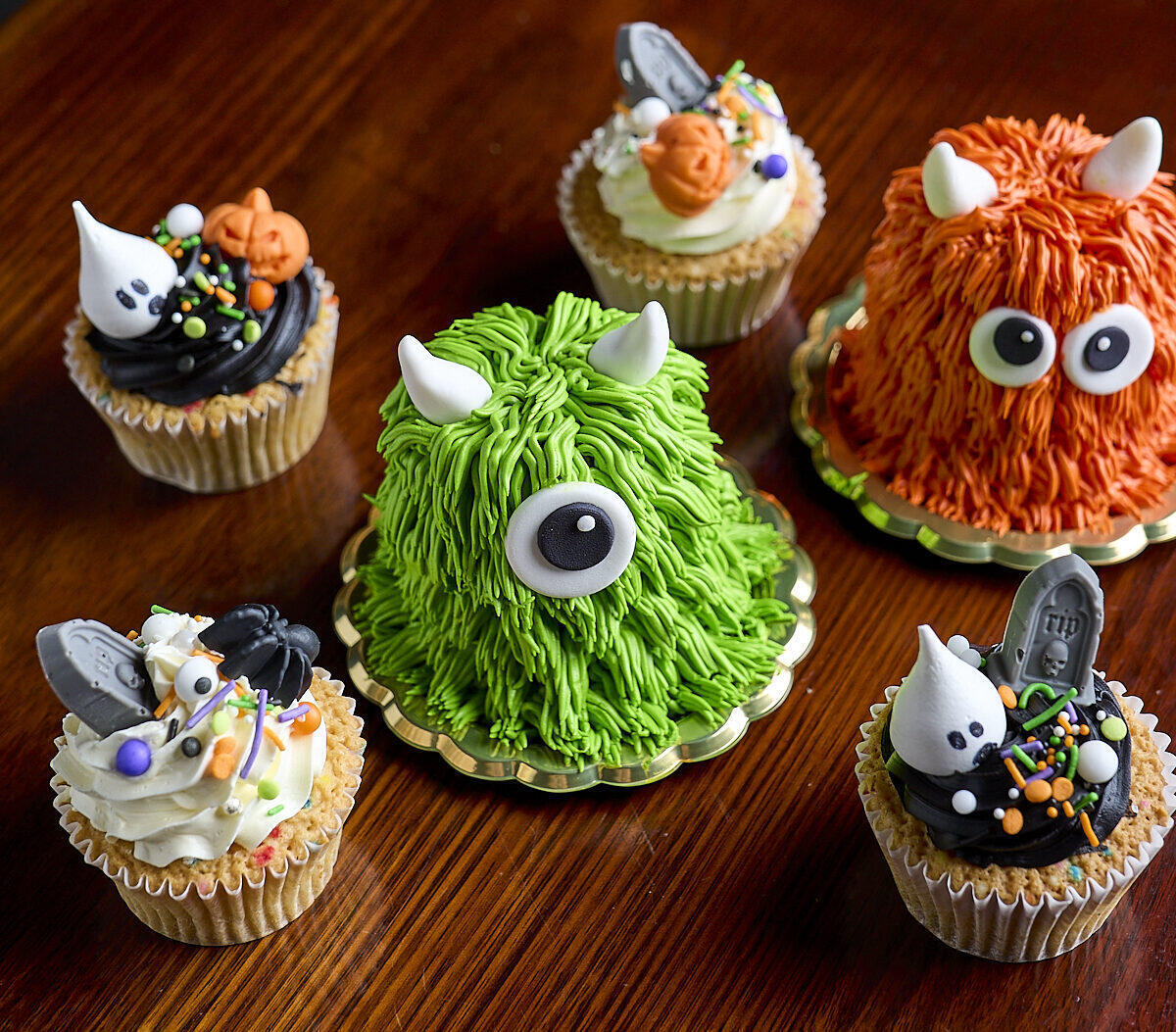 Are you ready to indulge in the perfect blend of spooky and sweet this Halloween season? At Brunetti Classico Carlton, we are thrilled to introduce our Little Monsters Halloween Range that will enchant your taste buds and add a touch of magic to your celebrations. Get ready to dive into a world of delightful, ghoulish treats that will leave you craving for more!
Picture this: Two white chocolate mud cupcakes stacked on top of each other, creating a tantalizing tower of taste. These cupcakes are not just any cupcakes; they are Little Monsters in disguise! Each one is filled with velvety vanilla ganache and adorned with brightly coloured buttercream, fondant eyeballs, and horns. These adorable monster cupcakes are as cute as they are delicious. They are perfect for Halloween parties, school treats, or simply satisfying your sweet tooth.
If you're looking for a cupcake with a dash of spookiness, our Monster Mash Cupcake is the one to try. A white chocolate mud cupcake, filled with creamy vanilla ganache, is transformed into a Halloween masterpiece. Decorated with spooky Halloween figures, it's the perfect choice for those who like a little eerie charm with their dessert.
Why You Shouldn't Miss Out
Limited Availability: Our Little Monsters Halloween Range is available for a limited time only, from October 19th until Halloween night, while stocks last. Don't wait until it's too late to sink your teeth into these delectable treats.
Exclusive Pre-Order: For those who can't wait to get their hands on these spooky sweets, we're offering an exclusive pre-order opportunity on Friday the 13th. This ensures you'll be among the first to enjoy these treats before anyone else.
Perfect for Any Occasion: Whether you're hosting a Halloween bash, looking for a unique gift, or just want to satisfy your sweet cravings, our Little Monsters Halloween Range is versatile and designed to make any occasion a little spookier and a lot sweeter.
How to Get Your Hands on Little Monsters
To get your hands on these Halloween delights, simply visit Brunetti Classico Carlton in-store starting from October 19th or pre-order on our website on Friday the 13th for exclusive early access.
At Brunetti Classico, we take pride in crafting not just delicious pastries but also memorable experiences. Our Little Monsters Halloween Range is a testament to our commitment to creating unique and delightful treats for every occasion.
So, embrace the spooky sweetness of Halloween with our Little Monsters and make this season one to remember. Whether you're sharing them with family and friends or treating yourself, our Halloween range is sure to cast a delicious spell on you.
Stay tuned for more updates, and follow us on social media to stay in the loop about all things Halloween at Brunetti Classico Carlton. We can't wait to share this spooky season with you!