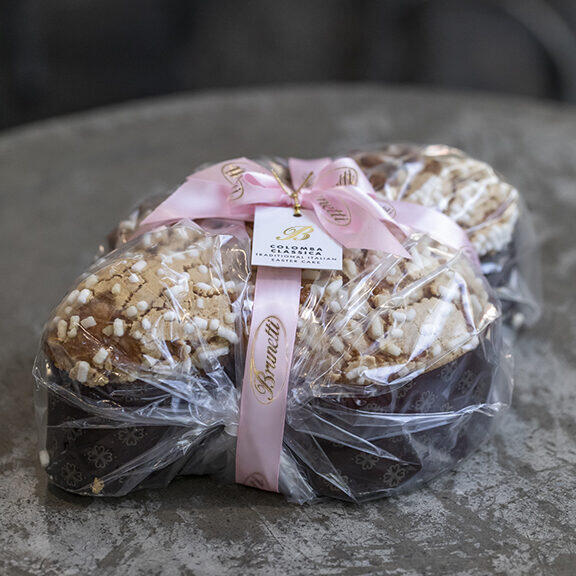 The Dove Cake known as the Colomba
Every year, we eagerly anticipate the return of la colomba di Pasqua, or the "Easter dove." In Italy, this artisanal cake is a sweet sign of spring. Easter's version of panettone or pandoro is the colomba which is translated to "dove" in Italian.
The Colomba is thought to have its origins in the Byzantine Empire. When the empire fell to the Ottoman Turks in 1453, many of the Byzantine bakers fled to Italy, bringing their recipes with them.
The history of the Colomba goes back to the Middle Ages, when it was used as a symbol of peace. It is thought that the cake was named after the colomba, or dove, which is a symbol of peace.
The Colomba is a popular Easter cake in Italy. It is often served at Easter brunches, however most importantly, pairs perfectly with a freshly brewed coffee. More recently, in most Italian households, the Colomba makes a great Easter gift for friends and loved ones.
Often made with flour, sugar, eggs, butter, and almonds. It is a rich and fluffy cake that is traditionally made with high-quality flour, farm-fresh eggs, sugar, butter, and natural yeast that takes at least 30 hours to rise. After rising, the dough is then baked into the iconic dove shape and topped with pearl sugar and almonds.
Some variations also include candied fruit or chocolate. At Brunetti Classico, discover the Colomba wrapped in a clear bag with ribbon, or in a beautiful box ready to present to friends and family.
Often served with a glass of Prosecco, dessert wine, or espresso – Colomba is a delicious way to celebrate Easter which we are sure will please everyone! If you want to try a delicious Italian Easter cake, be sure to try a Brunetti Classico Colomba.
Limited quantities available while stock lasts. Shop online or in store today!
Other posts you might like: