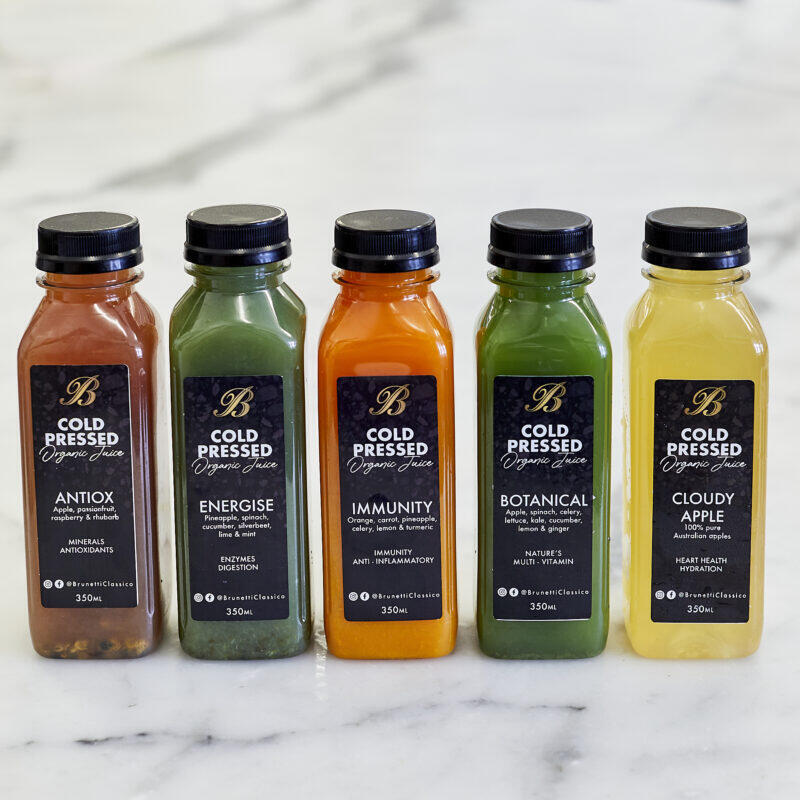 Cold Pressed Juices
Cold Pressed Juice has been very popular the last couple of years. Its improved method of juicing and suggested health benefits have made it a hot commodity within the health and wellbeing communities for many years now.
Cold pressed juicing is a superior method of juicing enabling the preservation of vital nutrients and enzymes found in fruit and plant-based juices without the presence of heat or friction found in traditional juicing.
For us, there's only one way to make great juice: by pressing it gently, extracting maximum flavour and nourishment. Refreshingly simple, isn't it? Experience our refreshing and uplifting mix of cold pressed juices to give you a health kick and energy boost.
At Brunetti Classico we offer 7 different cold pressed juices including:
Antiox
Made with apple, passionfruit, raspberry & rhubarb this juice is filled with essential minerals and antioxidants.
Botantical
Made with apple, spinach, celery, lettuce, kale, cucumber, lemon & ginger this juice is natures multivitamin.
Cloudy Apple
Made with 100% pure Australian apples, this juice encourages heart health and hydration.
Energise
Made with pineapple, spinach, cucumber, silver beet, lime & mint this juice has essential enzymes to encourage digestion.
Immunity
Made with orange, carrot, pineapple, celery, lemon & turmeric this juice has anti-inflammatory properties and aids immunity.
Roots
Made with beetroot, apple, lemon & ginger this juice is bursting with B vitamins and iron.
Pure OJ
Made with 100% pure Australian Valencia Oranges this juice is filled with enzymes and vitamin C.
Selected flavours of our Cold Pressed Juices are available at our Carlton café, as well as at the Melbourne airport T2 & T4 locations.