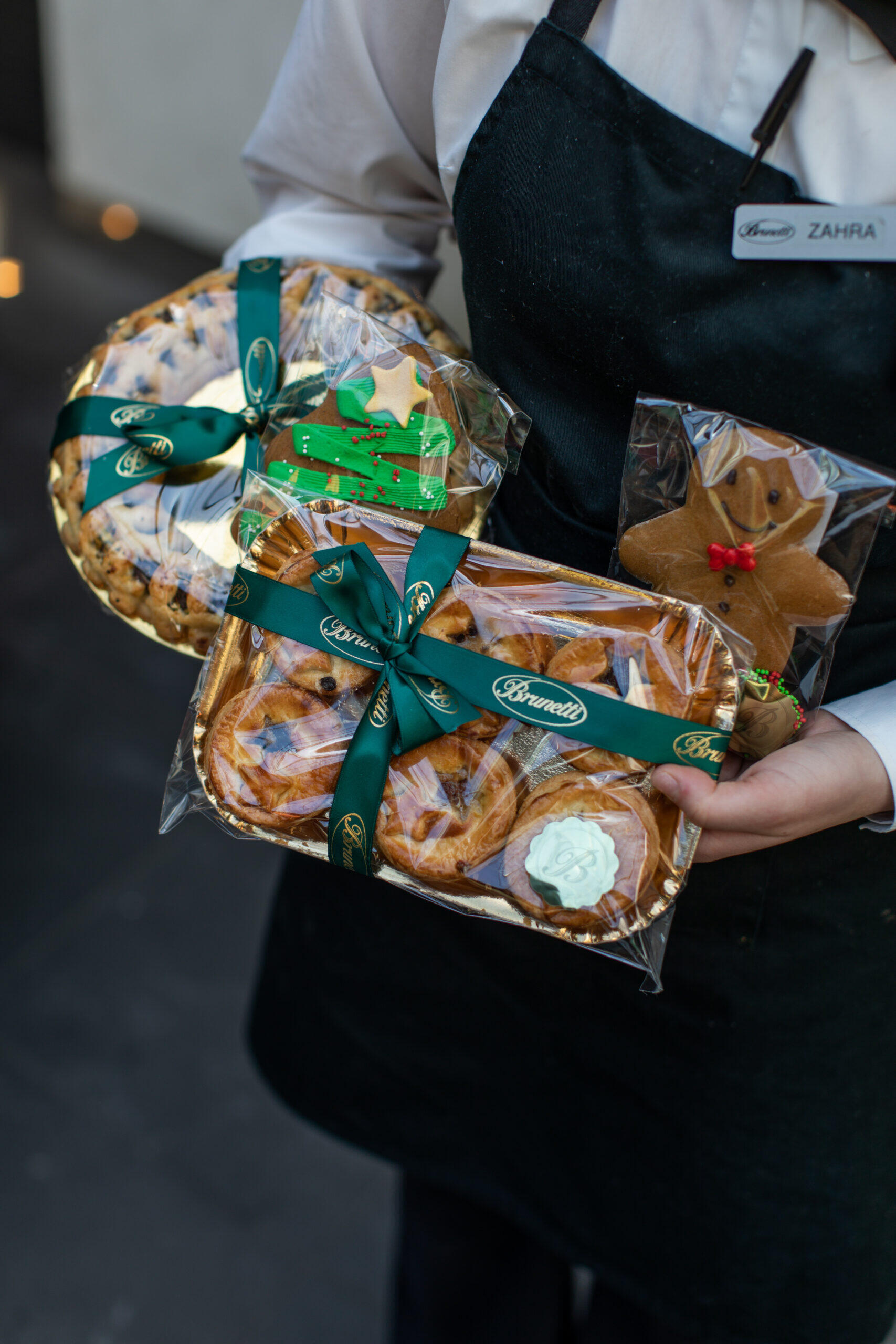 Sending Festive Love: A Brunetti Classico Guide for Interstate Gift-Giving
The holiday season is a time of warmth, joy, and togetherness. But what happens when distance separates you from your loved ones? At Brunetti Classico, we believe that the spirit of the season can bridge that gap. We're delighted to share our guide for interstate gift-giving, ensuring that the essence of Italy's finest festive treats, including panettone, pandoro, cookies, chocolates, pangiallo, panpepato, and buccellato, reaches your loved ones, even when you can't be together.
Panettone and Pandoro: A Taste of Italian Tradition
Send Sweet Holiday Memories
Panettone and pandoro are timeless symbols of the Italian holiday season. With their delicate textures and rich flavours, they make for the perfect gift. Select your favourite variety, whether it's the candied fruit-filled panettone or the elegant pandoro, and have it shipped to your loved ones. With every bite, they'll be transported to the heart of Italy's festive traditions.
Cookies: Share the Joy of Baking
Homemade Goodness from Afar
Our handcrafted cookies, including gingerbread trees, gingerbread men, and gingerbread house cookies, capture the essence of baking traditions passed down through generations. Choose an assortment, and your loved ones will experience the comfort of homemade goodness, even when you can't be there to share it with them.
Chocolates: Sweet Indulgences Delivered
Luxurious Treats for the Senses
The chocolate range at Brunetti Classico is a feast for the senses, with options like chocolate Santas, baubles, pralines, truffles, rocky road, and freckle products. Select a tempting assortment and have it posted to your loved ones. Each bite will be a reminder of the sweetness of the holiday season and your love.
Pangiallo and Buccellato: A Taste of Italy's Rich Heritage
Time-Honoured Treasures at a Distance
Our range of Italian classics, including pangiallo, panpepato, and buccellato, are handcrafted with traditional recipes and evoke the flavours and traditions of Italy. Sending these treats is like sending a piece of Italy's rich heritage. They capture the essence of celebration and are the perfect gift to keep traditions alive, even from afar.
How to Order and Share the Joy
Ordering and sharing the joy with your loved ones is simple. Here's how you can do it:
Head to our Interstate via post page: Head to our website and browse through our selection of festive treats. You'll find panettone, pandoro, cookies, chocolates, pangiallo, and buccellato among our offerings.
Select Your Treats: Choose the treats you want to send. You can create a custom assortment or select from our pre-made options.
Enter Shipping Details: When you check out, provide the shipping details for your loved ones. You can send these delights directly to their doorstep.
Personalize Your Gift: Consider adding a personalized message to your gift. Share your warm wishes and thoughts to make it extra special.
Complete Your Order: Finalize your order and proceed with the payment. We'll take care of the rest.
Celebrate Together, No Matter the Distance
At Brunetti Classico, we're dedicated to making your holiday season special, even when you can't be with your loved ones in person. Sending the gift of Italian tradition and flavour is a heartfelt way to celebrate together, no matter the distance.
So, as you select the perfect treats to send, remember that your love and thoughtfulness will be the true star of the celebration. The distance may keep you apart, but the joy of the holiday season and the sweetness of your gesture will bring you closer in spirit. Happy holidays to you and your loved ones, near and far!