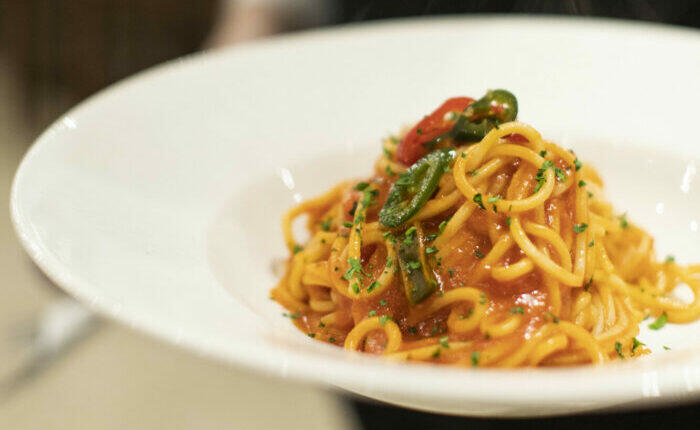 How to celebrate World Spaghetti Day
Spaghetti is one of the world's favourite dishes and is more than deserving of its own day of celebration. World Spaghetti Day takes place on the 4th of January and the perfect way to celebrate is with a big bowl of spaghetti and your favourite sauce.
At Brunetti Classico we offer a range of dishes made with our home-made spaghetti – from Carbonara to Zucchini Pesto, we have it all!
Our spaghetti is made with the best quality ingredients and traditional Italian recipes that have been handed down for generations. Topped with our traditional Italian sauces – Brunetti Classico is home to the best spaghetti in Melbourne.
To celebrate World Spaghetti Day our chefs have been hard at work preparing some exciting new dishes, available at $18 for a limited time only!
TRICOLORE 
Our home-made spaghetti with an exciting twist! Featuring red, white and green spaghetti topped with cherry tomatoes, garlic, basil and stracciatella cheese.
MARE E MONTI
Our "Surf & Turf" pasta from central Italy features clams & porcini mushrooms cooked in white wine.
DIAVOLA
Our Diavola features crowd favourite Arrabbiata sauce with hot salami and olives to create a spicy spaghetti you won't forget!
Along with our limited time specials we will be offering free tastings of our deliciously special pasta in store. Stop by to our Carlton store from 5pm onwards to try some of our delicious spaghetti and celebrate World Spaghetti Day the right way!
Make sure to sign up for Dolcissimo to stay up to date with what is going on in-store at Brunetti Classico Carlton, T2 and T4!
Other posts you might like: