GELATO BAR
366 LYGON STREET, CARLTON
Our world class gelato finally has the space it has long deserved.
TRADITION YOU CAN RELY ON
Some things in life don't have to change. Like our unparalleled passion and dedication to making the best quality gelato. Made with our traditional recipes, handed down through generations. Where gelato is made the Classico way. A way that's never changed, for a reason.

THE BRUNETTI CLASSICO GELATO BAR.
You loved the gelato so much; we needed more room!
Our Gelato Bar is an authentic Italian Gelateria in the heart of Carlton. Enter via our piazza on Lygon street and enjoy our traditional Italian gelato made with the best quality ingredients by our authentic Sicilian Gelatiere.
It's just not gelato unless it's Brunetti Classico.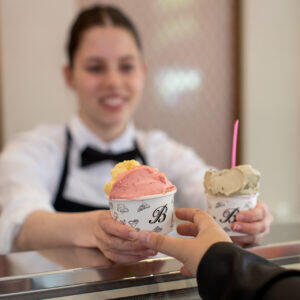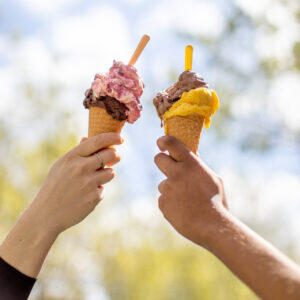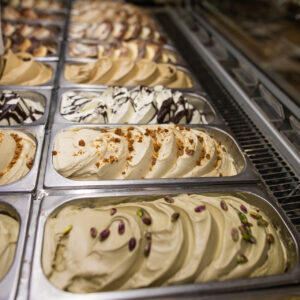 30 years of crafting authentic Italian gelato; the right way.
Where there is commitment to quality like nowhere else; never compromising on the best, natural ingredients.
Where you can watch our gelatieres hand make your gelato on the spot, offering a curated collection of classic flavours. From Chocolate to Ricotta and Orange Swirl, and now including lactose friendly and vegan gelato options – there is something for everyone.
Enjoy our range of up to 48 seasonal flavours, served in a cone or cup, eat in or take away.
If gelato isn't really your thing – why not try some of our granita, made traditionally by a true Sicilian. A Sicilian specialty, our granita is mixed continuously throughout the freezing process to give it the perfect smooth texture.
In the height of summer when the temperature is in the 30s before you get out of bed, ice cream for breakfast doesn't seem too far-fetched. Where we come from, Granita and Gelati aren't just an afternoon snack. Our handmade brioche filled ice cold granita or gelato make for the perfect traditional Sicilian summer breakfast.